Heavy Duty Extruded Screen Frame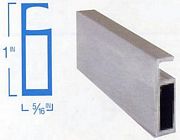 Make commercial grade new or replacement screens with our affordable EXTRUDED aluminum frame. Much stronger than rolled aluminum, commercial frame allows you to make screens for large windows without the need for cross braces. It is also ideal in environments where children or pets damage the screen frame.
* Length = 94"
* Package of 6
* Use .250 spline for regular fiberglass screen mesh
* Use .230 spline for heavier mesh such as aluminum and sun control screening
Whether you are in the market for insect screening or replacement sliding screen doors, you can rest assured that Apex Products provides the best screen door and porch screen material available.
You Might Also Like...
| | |
| --- | --- |
| | .230 inch hollow core vinyl serrated screen spline. |
| | |
| --- | --- |
| | .250 inch hollow core vinyl serrated screen spline. |
| | |
| --- | --- |
| | 0.175 inch diameter screen spline, black, 25 feet per package. |
| | |
| --- | --- |
| | Used for surface mounting of screens and storm windows. |
| | |
| --- | --- |
| | Used for surface mounting of screens and storm windows. |
| | |
| --- | --- |
| | Fits our commercial grade screen frame and commercial grade porch screen frame. 100/Pack, These corners are plastic. |
| | |
| --- | --- |
| | Fits our commercial grade screen frame and commercial grade porch screen frame. 20 per package. These corners are plastic. |
| | |
| --- | --- |
| | Heavy duty screen spline tool with knife, blade storage, trigger load mechanism and interchangeable spline rollers. |
| | |
| --- | --- |
| | Aluminum Stretcher Clips are designed for flush mounting window screens to porch and window openings. 12 clips per package. Click on the picture for additional information. |
Software: ClickCartPro, Copyright 1999-2023 Kryptronic, Inc. Exec Time: 0.122442 Seconds Memory Usage: 5.823227 Megabytes