Sliding Screen Door Bug Strip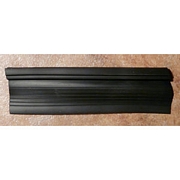 Replacement vinyl bug strip for sliding screen doors.
* 8 feet long - trim as needed
* Black
Trim the strip to the desired depth so that it seals tight against the patio door. Use the grooves as a guide line for cutting. The bug strip should not be so tight that it forces the screen to bow outward away from the patio door. Install the bug strip on the side frame rail opposite the handle. Position the strip with the flap facing the inside face of the door. The protruding edge faces the glass patio door. In the comments section below please specify the length in inches of how long you need it cut to.
Software: ClickCartPro, Copyright 1999-2023 Kryptronic, Inc. Exec Time: 0.158228 Seconds Memory Usage: 5.624504 Megabytes